Main Window (Column Style)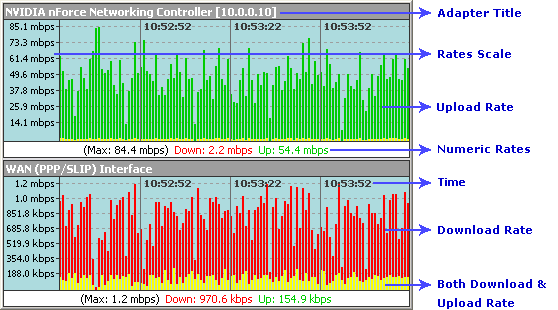 ---
Main Window (Line Style)
The average download and upload lines are also available on column style. The lines help you watch average speed of a connection easily.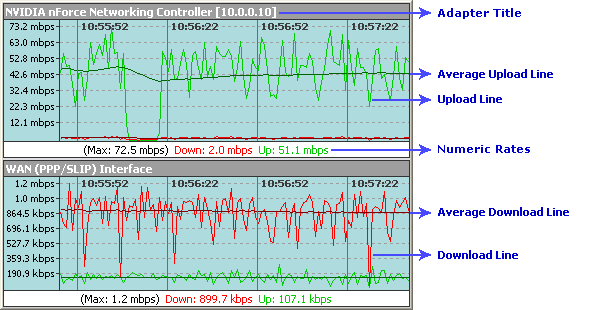 ---
Configure Interfaces
Right-click on main window and choose View.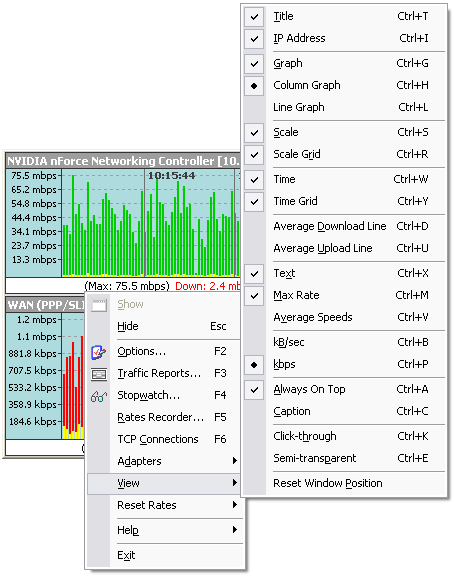 ---
Choose Adapters
Right-click on main window and choose Adapters, and then select or unselect an adapter. Bandwidth Monitor can monitor multiple adapters on one computer at a time.
---
View Download and Upload Speeds
Bandwidth Monitor is able to be resized to a small and transparent window, so that you can move it to a corner and watch real time download and upload speeds when going online. You can even enable click-through, so it appears like inexistence.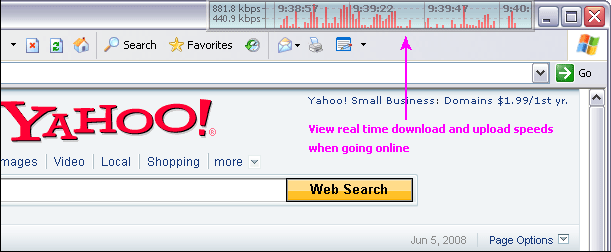 ---
Show Graph on System Tray
You can see real time traffic rates graph on system tray by Bandwidth Monitor. The feature is only available on Windows XP/2003/Vista/Windows 7.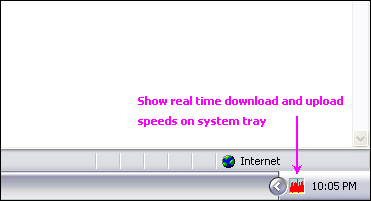 ---
Traffic Reports
Right-click on main window and choose Traffic Reports.
Traffic Summary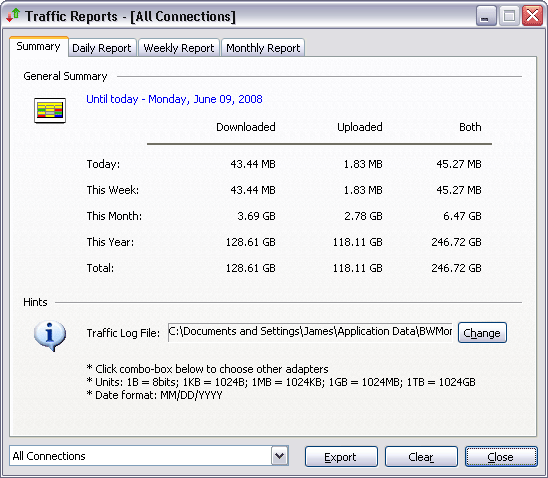 Daily Report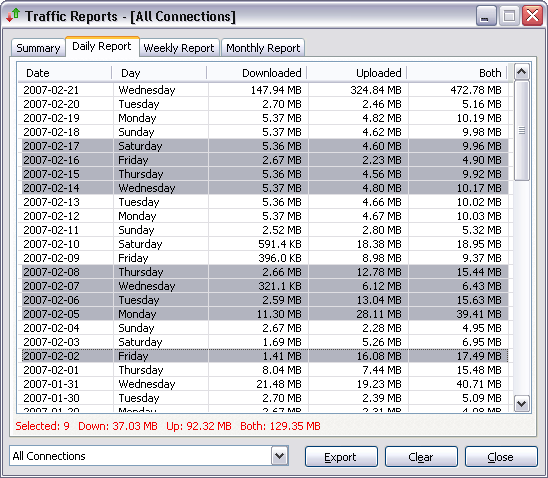 Weekly Report (Start day of week is customizable)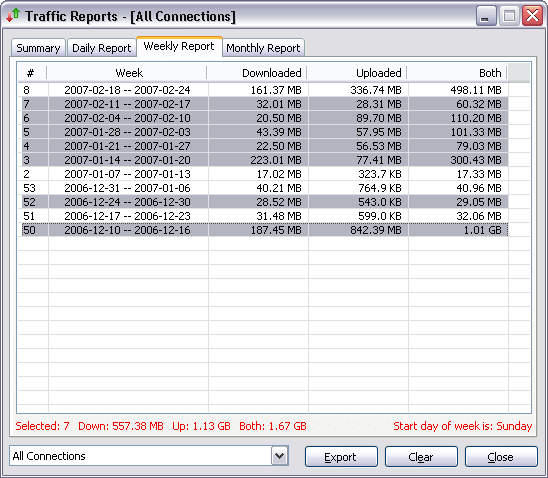 Monthly Report (Start day of month is customizable)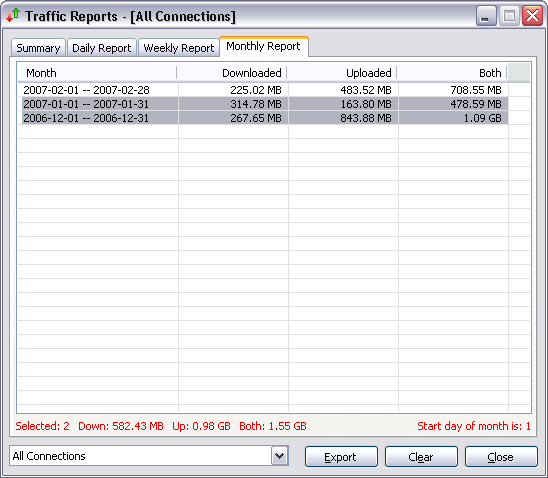 ---
Bandwidth Usage Notification
The feature enables you get a notification (play a sound file or PC beep, send an email, or run a program) when you exceed a certain amount of bandwidth usage.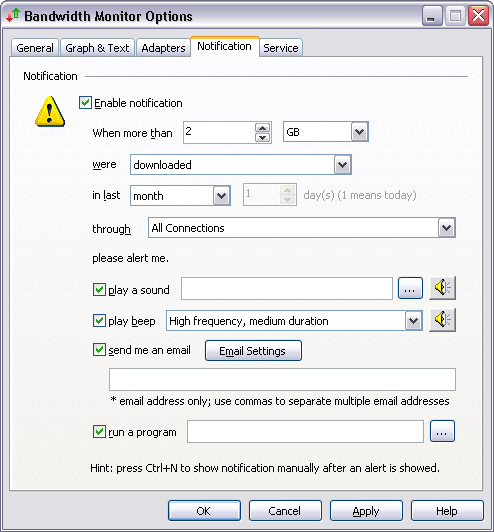 ---
Run as a System Service
Bandwidth Monitor can run as a system service that logs traffic through current computer without log on. You can also enable bandwidth usage notification and rates recorder in service. And, the service is able to generate traffic reports (txt, cvs, or html) every N seconds. For example, you can export a traffic report in html file to your web directory, and then browse the file to view bandwidth usage anywhere and anytime.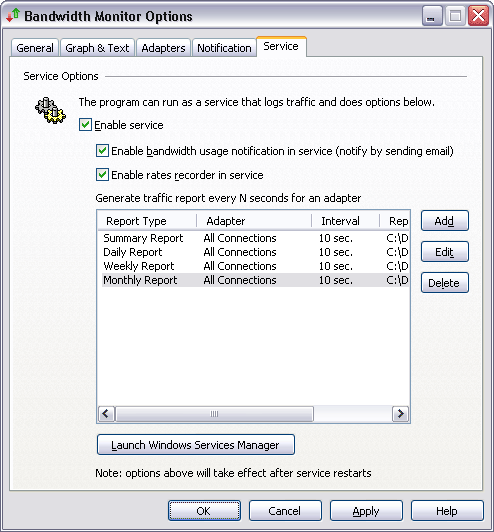 ---
Record Traffic Rates
Right-click on main window and choose Rates Recorder. The rates can be recorded in plain text or csv (comma-separated values) format.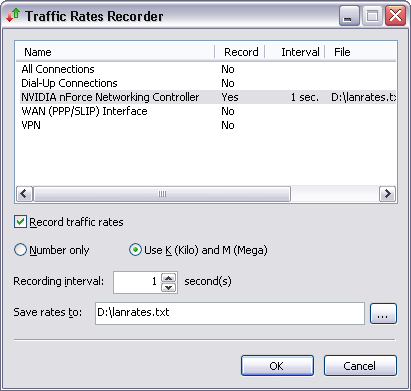 ---
Traffic Stopwatch
Right-click on main window and choose Stopwatch. The Traffic stopwatch enables you test bandwidth speeds of connections. For example, you can test speeds of your broadband connection.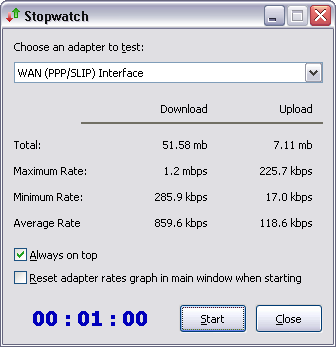 Free Download Bandwidth Monitor
Top