---
Main Window (Column Style)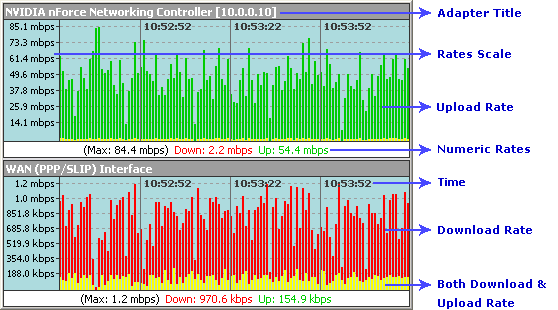 ---
Main Window (Line Style)
The average download and upload lines are also available on column style. The lines help you watch average speed of a connection easily.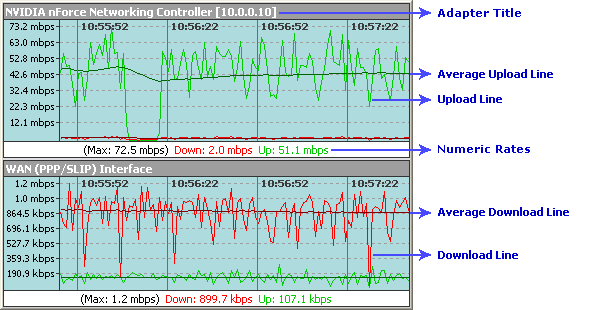 ---
Configure Interfaces
Right-click on main window and choose View.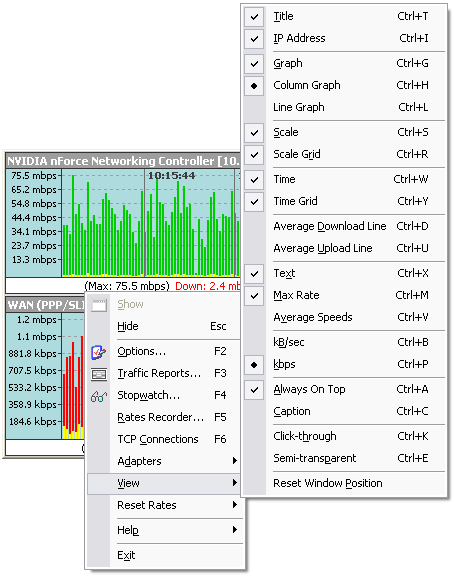 ---
Choose Adapters
Right-click on main window and choose Adapters, and then select or unselect an adapter. Bandwidth Monitor can monitor multiple adapters on one computer at a time.
---
View Download and Upload Speeds
Bandwidth Monitor is able to be resized to a small and transparent window, so that you can move it to a corner and watch real time download and upload speeds when going online. You can even enable click-through, so it appears like inexistence.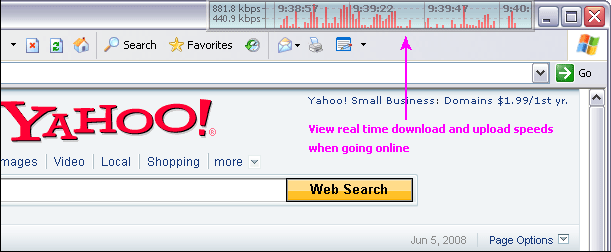 ---
Show Graph on System Tray
You can see real time traffic rates graph on system tray by Bandwidth Monitor. The feature is only available on Windows XP/2003/Vista/Windows 7.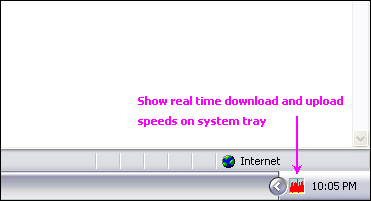 ---
Traffic Reports
Right-click on main window and choose Traffic Reports.
Traffic Summary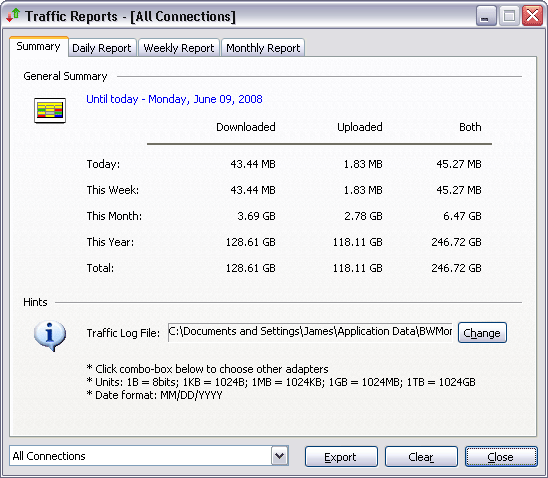 Daily Report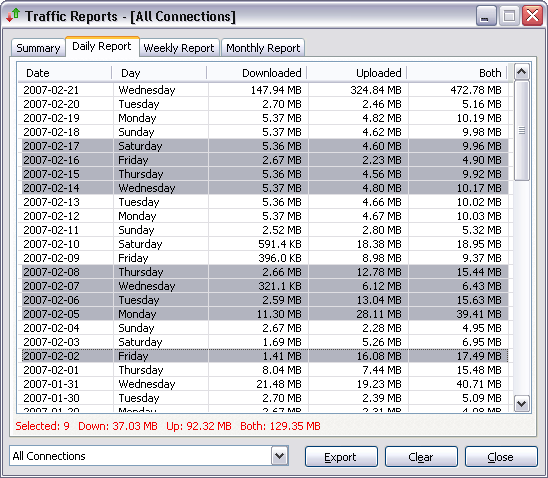 Weekly Report (Start day of week is customizable)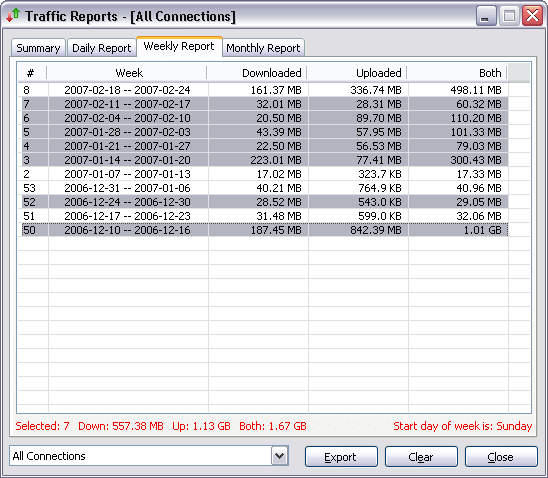 Monthly Report (Start day of month is customizable)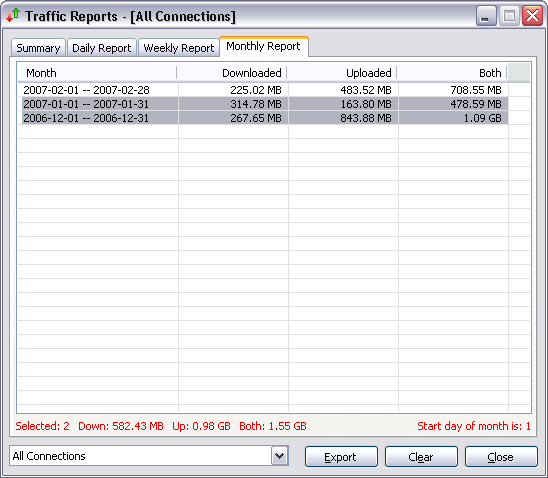 ---
Bandwidth Usage Notification
The feature enables you get a notification (play a sound file or PC beep, send an email, or run a program) when you exceed a certain amount of bandwidth usage.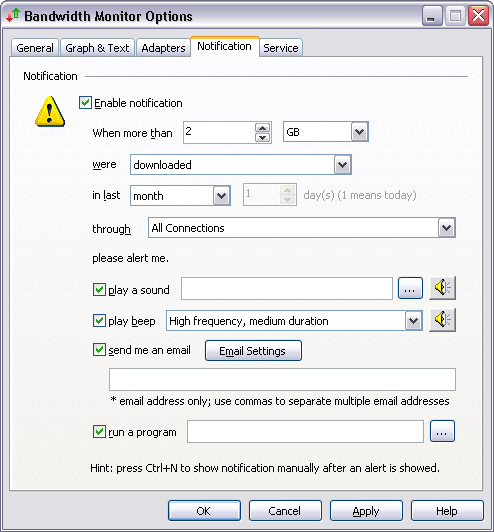 ---
Run as a System Service
Bandwidth Monitor can run as a system service that logs traffic through current computer without log on. You can also enable bandwidth usage notification and rates recorder in service. And, the service is able to generate traffic reports (txt, cvs, or html) every N seconds. For example, you can export a traffic report in html file to your web directory, and then browse the file to view bandwidth usage anywhere and anytime.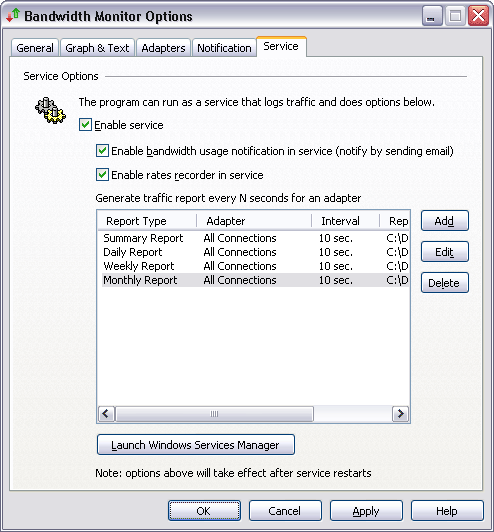 ---
Record Traffic Rates
Right-click on main window and choose Rates Recorder. The rates can be recorded in plain text or csv (comma-separated values) format.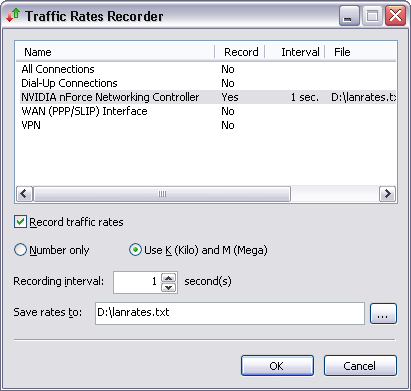 ---
Traffic Stopwatch
Right-click on main window and choose Stopwatch. The Traffic stopwatch enables you test bandwidth speeds of connections. For example, you can test speeds of your broadband connection.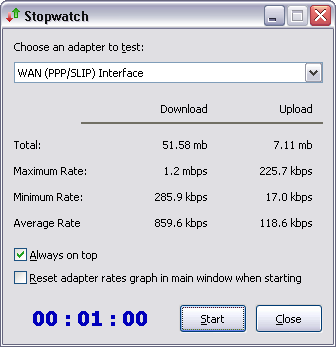 Free Download Broadband Monitor
Top
What is Broadband?
Broadband Internet access, often shortened to just broadband, is high data rate Internet access - typically contrasted with dial-up access over a 56k modem. Broadband is often called "high-speed" Internet, because it usually has a high rate of data transmission. In general, any connection to the customer of 256 kbit/s (0.256 Mbit/s) or greater is more concisely considered broadband Internet.
The standard broadband technologies in most areas are DSL and cable modems. Newer technologies in use include VDSL and pushing optical fiber connections closer to the subscriber in both telephone and cable plants. Fiber-optic communication, while only recently being used in fiber to the premises and fiber to the curb schemes, has played a crucial role in enabling Broadband Internet access by making transmission of information over larger distances much more cost-effective than copper wire technology. In a few areas not served by cable or ADSL, community organizations have begun to install Wi-Fi networks, and in some cities and towns local governments are installing municipal Wi-Fi networks. As of 2006, broadband mobile Internet access has become available at the consumer level in some countries, using the HSDPA and EV-DO technologies. The newest technology being deployed for mobile and stationary broadband access is WiMAX.